Dr. Messineo Instructs Norwood High School's Robotics Anatomy and Physiology Classes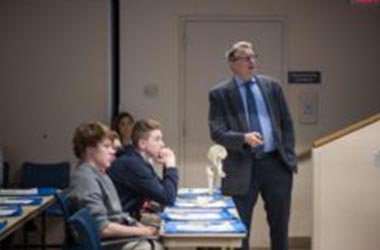 On October 27, 2017 Dr. Mark Messineo and Alicia McKersie PA-C along with colleagues of Norwood Hospital helped lead an educational session for students and faculty of Norwood High School's Robotics and Anatomy and Physiology classes.
Dr. Messineo lectured on the anatomy, physiology, and biomechanics of the knee. He reviewed the impact of osteoarthritis and the operative and non-operative management of this disease. Dr. Messineo discussed the importance of robotic technology and the state of the art advancements in total joint replacements which we are able to provide for our patients. The interactive session concluded with a demonstration of the Mako Robot and the students were able to try the robot in a simulated operative setting.
The morning was rewarding and educational for all involved. Orthopaedic Specialists of Massachusetts supports community outreach programs and opportunities to teach within the fields of sports medicine and general orthopaedics.